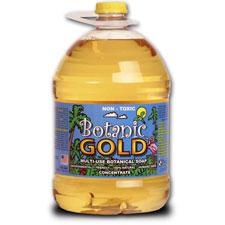 Are you looking for Natural Cleaning Products that have no "Harmful Chemicals?"  Enviro-One Green Cleaner may be what you're looking for! Enviro-One…
Is Chemical free
Has over 200 documented uses
Replaces all harmful chemicals in your home
Breaks down oils & dirt
Is highly recommended for people diagnosed with MCS
What is Enviro-One Soap?
Enviro-One Green Cleaner is a silky golden non-toxic liquid soap powerful enough to completely free your home from all toxic cleaning chemicals including your everyday laundry detergent, dish washing soap, floor cleaners, and more. If you think that's great, listen to this. It can also be used for bathing, washing your hair, and even brushing your teeth. WOW!.
Enviro-One Green Cleaner is made by the makers of Botanic Gold (formally PureTec International / formerly Planet Solutions). The goal of PureTec International was to produce a chemical free cleaner that can replace all harmful chemicals from our homes, workplace and environment.
Why Use Enviro-One Natural Soap
Enviro-One Green Cleaner is derived from the latest scientific breakthrough. It effectively breaks down oils, dirt and removes bacteria without using any harmful chemicals in the process. This is why even though it is strong enough to clean hard engine grease, it is still safe to wash a baby's bottom. This all purpose non-toxic soap cleaner is used by and is safe for people that are extremely Multiple Chemically Sensitive. One of the preferred uses for the health conscious is washing their fruits and vegetables. No matter what your looking for, this all purpose soap does it all.
NO Ammonia
NO Animal Products
NO Artificial Ingredients
NO Chlorine
NO Dye of Colors

NO Isopropyl Alcohol
NO Hydrofluoric Acid
NO Harmful Ingredients
NO Perfumes or Fragrances
NO Phosphates

Enviro-One Green Cleaner: Purified water, fatty acids, folic acid, minerals and enzymes derived from edible and seed bearing plants.
Using this product is simple and easy. Enviro-One Green Cleaner comes in the concentrate and has different dispensers that make its usage even easier. To use, just add water. It's that easy.
> 5 to 1 for General Household Cleaning

> 10 to 1 for Personal Care and Bathing

> 15 to 1 for  Fruits and Vegetables Washing.
How To Order Soap
To order Enviro-One Green Cleaner and NEVER use harmful chemical cleaners again, call us TOLL FREE at 1-800-953-2630 or you can Order securely via the internet by just clicking here!